Donated Collections Section
The gifted libraries unit of the central library and information center of Ferdowsi university of Mashhad has been established in central library since 2004 which regarding the spiritual esteem of gifting and donating, professors and researchers who have exquisite sets can take part in this issue.
Currently, this library comprises one Consecrated set and two gifted sets:

  The Consecrated Set of Master Kazem Modir Shaneh Chi
Including 7 thousand printed books and 1500 lithography and manuscripts in the fields of Figh in Islamic Science and the Islam's History.

  The Gifted Set of Researcher Ahmad Mohadetheh Khorasani
Including 5 thousand printed books and 100 old and lithographic prints which are in the field of Islam's History and Islamic Sciences and Figh.

  The Gifted Set of Researcher Mohammad Hossein Farzin- Alie Ghafari
Including 8 new and old printed books in the fields of history of Iran and the world literature.
All of these sets are ready to serve the respectful clients at the gifted library of the central library of Ferdowsi university of Mashhad.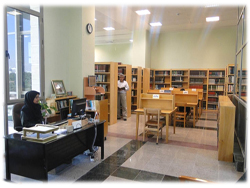 Activities

 
Guiding clients to have access to the topics of printed books including reference and general books

Guiding clients to have access to printed information resources including reference resources and journals and books

Guiding clients on searching information resources via the librarian software

Providing printed information resources including books and journals to clients and returning the resourcing back to the shelves

Preparing information resources for the clients
Introducing the existing resources to the clients via preparing brochures from the existing exquisite topics verbally in the unit. 
colleagues 
M.A In charge of the gifted sets unit

M.A. in Information and Knowledge Science

Telephone : 38806551

اEmail : This email address is being protected from spambots. You need JavaScript enabled to view it.
Last Updated on Monday, 19 June 2017
Hits: 2262