Audio-Visual Services Section
The set of visual auditory material is of high importance at academic libraries and is used plentifully as teaching aid material in many educating and researching centers and is useful for transferring and understanding the educational topics because of using sound and image. The visual-auditory set of the central library and information center has started to work with the aim of gathering software and applications and also educational videos and so on and by organizing these resources, it has provided the possibility of lending and also searching via the librarian software. Having 7500 CDs including CDs related to books existing in the tank and teaching CDs, this unit meets the clients' need. Using these resources is possible at the location. After getting registered in this unit, CDs are searchable and accessible on the library's system. Moreover, users can refer to the concerned hall and using the existing computers to use the visual and auditory set..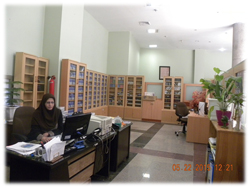 Activities
 Preparing resources needed by professors and students and users of the university
 Preparing electronic version of existing video clips
 Registering and cataloging the visual and auditory resources
 Preparing the resources on the library's borrowing system and the university Sadaf  system
 Providing information on existing resources
 providing resources online search services
 Educational services to clients in the form of educational CDs.
 Informing the new existing resources in the unit
 Recording and segregating CDs of different topics
 Guiding clients on how to install and setup the existing softwares
Preparing and installing softwares needed by users on the existing systems.
In Charge of the Visual and Auditory Unit

Bs.in Information and Knowledge Science 

Telephone:38806548

Email:

This email address is being protected from spambots. You need JavaScript enabled to view it.

This email address is being protected from spambots. You need JavaScript enabled to view it.

 

Last Updated on Sunday, 15 January 2017
Hits: 850