Education and Communication Section
One main goal of the central library and information center is to preserve, propagate and enhance the users' knowledge. In the same vein, the education and communication unit was established in 2013. One of this unit's duties is to compile librarian educational programs in following three levels:

-          Training faculties

-          Training librarians

-          Training students in different educational levels

In addition to compiling librarian educational programs and monitoring holding of courses and preparing analytic reports regarding the held courses, this unit is in charge for interacting with the users in different units of the university.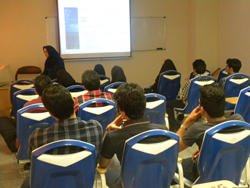 Activities

 
Some activities of this unit have been summarized below:
 -          Communicating with faculties, students and staff of the university with the aim of informing and coordinating librarian programs with the university's educational programs
 -          Coordinating for holding tours and educational courses if information literacy
 -          Interacting with other libraries and information centers, national, professional and local societies to identify their professional resources and services and setting providing referential services
Interacting with officials of faculties to identify special activities and programs (such as the book week, the research week, …)
کارشناس علم اطلاعات ودانش شناسی

In Charge for the Education and Communication Unit

Telephone: 38806531

Email:

This email address is being protected from spambots. You need JavaScript enabled to view it.



Last Updated on Sunday, 01 January 2017
Hits: 1033