Circulation Services
The growth of each library relies on providing continuous, proper and updated services. Hence, each library's position is defined by the quality and quantity of services and how to provide them to the users' society.
In the case of importance and position of the lending unit we should know that the figure and embodiment of all activities and efforts in other sections of the library are solidified and manifested in lending unit.
The lending unit of the central library and information center of Ferdowsi university of Mashhad serves more than 30 thousand members with more than 180 thousand issues of Persian books and over than 85 thousand Latin books. The book repository is open shelve and the client can have access to resources freely. Books' arrangement on shelves is based on topic and is based on the congress' rating. .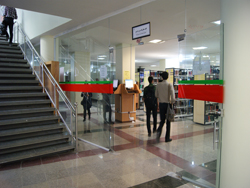 Activities

 

For clients' optimized use of the lending unit, some points have to be mentioned:
Books are only lent by providing "Student ID card".

Extending the books is possible by the members themselves via referring to the portal (student/faculty/staff).

The books' returning time can be ascertained via the portal.

The penalty of each day of delay in returning the books is 1000 Rials.

The penalty of each day of delay in returning the reserved books is 5000 Rials.

The "reserved books" are not extendable.
The respectful members lease examines your book lending card by referring to the portal-the library tab- the lending option. Obviously, the library has no responsibility on penalty and delays.
Mohammad Jafar Talaie Barabadi 

In Charge of the borrowing Unit

M.A. in Information and Knowledge Science

Telephone: 38806541

Email:

This email address is being protected from spambots. You need JavaScript enabled to view it.

Senior Expert of the Borrowing Unit

M.A. in Information and Knowledge Science

Telephone: 38806543

Email:

 Senior Expert of the Borrowing Unit

M.A. in Information and Knowledge Science

Telephone: 38806542

Email:

This email address is being protected from spambots. You need JavaScript enabled to view it.




Expert of the Borrowing Unit

B.S in Information and Knowledge Science

Telephone: 38806523

Email:

This email address is being protected from spambots. You need JavaScript enabled to view it.

Senior Expert of the Borrowing Unit

M.A. in Information and knowledge Science

Telephone: 38806572



Email:

This email address is being protected from spambots. You need JavaScript enabled to view it.

 

Expert of the Borrowing Unit

B.S in Information and Knowledge Science

Telephone: 38806546

Email:

This email address is being protected from spambots. You need JavaScript enabled to view it.

 

Senior Expert of the Borrowing Unit- the Ghadir Project

M.A. in Information and Knowledge Science

Telephone 38806545

Email

This email address is being protected from spambots. You need JavaScript enabled to view it.

 

Librarian of the Book Tank

Honorary Diploma

Telephone: 38806535

Email:

 

Senior Expert of the Borrowing Unit


Bs of Religions   And mysticism


Telephone: 38806529

Email:

This email address is being protected from spambots. You need JavaScript enabled to view it.

Librarian of the Book Tank

Diploma

Telephone: 38806535

Email:

This email address is being protected from spambots. You need JavaScript enabled to view it.

 
Last Updated on Saturday, 23 December 2017
Hits: 1281